Top Five: Supporting Actress
I was reading
Asia's
blog awhile ago and reading about Best Supporting Actor, and I was just thinking of listing my own top five supporting actors and actresses as they don't get as big recognition as the main actors and actresses and I'd do the opposite, females first then males cos I'm having difficulties with the males right now. Note this is my own top five supporting actresses not necessarily the best.
No. Five
Akina Hong - 康華
I remember the first series I recognised her was on "Armed Reaction IV" (or III if she was in it, but I dont quite remember that much) playing Ada Choi's stepmum. She was so warm and caring and very gentle. Next character I recognise her was playing Kenix's enemy in "Love Bond" playing a mischieve and sneaky character. After watching "The Trust of a Lifetime" she played an emotionally distress wife where her husband was missing. She is a very versatile actress and great actress. I've always liked her acting and I hope to see more and play another gentle character as this was the type of role I most remember her from. Didnt even know she particapated in Miss HK. Thus this proves pre-millenium's Miss HK's can act. Only a few in the past-milleniums can.


No. Four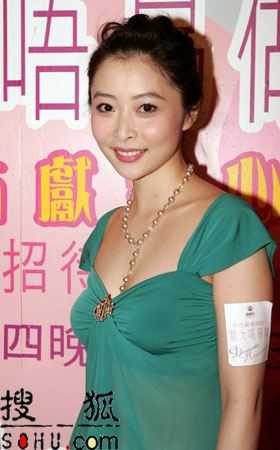 I remembered a lot of people not liking her in the early days because she always ended up playing the sexy seductress or something along those lines. Well thats partly true but she did play some "sane" characters which made me like her. I never did hated her, just somewhat annoyed but then I grew my liking as soon as she played characters that were good. I remember one out of the top of my head would be "Legend of Love" which starred Deric Wan and Sonija Kwok. The series wasn't great but still it showed that Angela could play other characters. Another would be "Wong Fei Hung - Master of Kung Fu" which also starred Bosco Wong, John Chiang. I dont know about everyone else but I loved this series mainly due to my low expectations. These were all prior to "Life Made Simple" so it just shows that she does capture many roles.

No. Three
Sherming Yiu -
姚樂
怡
I've always liked Sherming as soon as I saw her in Virtues of Harmoney. She was very cute with Hawick Lau. I was always rooting for them. She is also a very underated actress. I remember seeing her as a very b*tchy role in Return of the Cuckoo as a repeat and it just showed how versatile she is. She also played recently (well from what I've seen) in "Forensic Heroes", despite her small role, she played it very well. There's also "To Love with No Regrets" playing another b*itchy role but turned good. She wasn't as evil as Annie Man. What makes her performance memorable is the fact that she seems to be quite a shy person in real life. I remember first seeing her in "Get Set Go" the Olympics show that tvb set up and a real shy person. Chin Ka Lok told her why did she put her coat back on and remove it so she'll fly higher but she shock her head in embarrasment. She also went on "Super Trio" I think 3 times? If you've seen her in it, shes quite shy and seems real friendly person to be around. I think this what makes her even a better actress. Playing characters out of her comfort zone. Hope to see more of her in the future and become appreciated by TVB.

No. Two
Another versatile actress. I had trouble picking her and another actress for No. One but gave her second because she seems to be the most likely get the most recognition. I've always liked her for some reason. (Yes that same excuse) Perhaps it was her onscreen presence cos she played a lot of evil characters (similar in the lines with Angela) but I remember watching her in "The W Files" where she played a good character. It was quite hard for me to be straight about this. I always thought that there was something up her sleeve. I hear she has a lot of good roles and funny with Wayne Lai. I'm looking forward to those series since I haven't seen it yet and heard that she plays comedic in "The Gentle Crackdown" so looking forward to that. I was quite disappointed that TVB changed the "CIB" cast where it was originally Halina Tam and Joyce Tang that were going to be the female leads. They offer more onscreen presence then Christine Ng and Maggie Siu even though they are both great actresses. Though unlikely to get a lead role, I hope she will soon secure a significant 2nd role.
No. One

I've decided to make it more suspenseful! Can anyone guess who "my" No. One Fav Supporting Actress is? I know its hard but I'll offer a clue:
She had particapted in the Miss Hong Kong Beauty Pageant
Not really a clue? Well I don't want to make it easy! This way it will be more fun! I'll post the No. One spot some time before Sunday! Looking forward to your guesses!